COST EFFECTIVE WAY TO COMBAT INFECTION in your OPD/OT/ICU/NICU/LABOUR ROOM
Effectively remove bacterial flora with 5 way filtration in OPD/OT/ICU/LABOUR ROOM.
It reduces Microbial air flow to minimum level by washing the air and reduces the C.F.U count
with help of advanced Germicidal E.P.I.C (Electronic Plasma Incineration Chamber) technology.
The Infection causing submicron size air-borne particles are trapped and electrocuted in the HEPA filter (0.03 micron)
Kills the bacteria in the air, along with removing bad odors, hazardous spam, (Hazardous suspended particulate matter).
Multi stage air Filtration system, with specially designed germicidal incorporating E.S.P scientific technology.
Able to maintain air flora sterile at the rate of 120 to 300cu./min.
Reduce cross infections from patient to staff and vice versa very effectively.
Removes fumes, odor and make the Doctor and staff comfortable during procedures.
More than 50,000 installations across India.
Longer service life, Efficient performance, Hi-tech design.
Avail 80% Depreciation in the 1st year (Electrostatic Precipitation System, Apendix-1, Rule 5 of IT.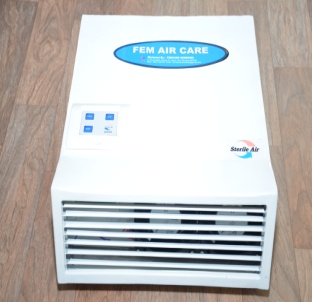 | | | | |
| --- | --- | --- | --- |
| Model | BGM-I | BGM-II | BGM-III |
| Height | 140mm | 150mm | 150mm |
| Width | 400mm | 400mm | 660mm |
| Weight | 8 Kg approx. | 9.8 Kg approx. | 18 Kg approx. |
| Electrical | 240 volts | 240 volts | 240 volts |
| Power Consumption | 30 watts | 38 watts | 70 watts |
| Air Flow | 152 cubic mt./hr. | 203 cubic mt./hr. | 338 cubic mt./hr. |
| Prefilter | Non woven poly. | Non woven poly. | Non woven poly. |
| A.C. Filter | silver impregnated | silver impregnated | silver impregnated |
| HEPA | 99.95% | 99.95% | 99.95% |
| E.S.P. | Germicidal type | Germicidal type | Germicidal type |
| U.V Leakage test | fluorescent power certified | fluorescent power certified | fluorescent power certified |
| U.V. Dose | 28,000 uw sec. per cm2 | 38,000 uw sec. per cm2 | 76,000 uw sec. per cm2 |
| Microbiological Test | ISO 9001-2000 Lab. | ISO 9001-2000 Lab. | ISO 9001-2000 Lab. |
| Area Recommended | 43 cubic mt. | 79 cubic mt. | 127 cubic mt. |
| Test Method | air sampling with petri plates | air sampling with petri plates | air sampling with petri plates |